BIRC News
ISMRM Senior Fellowship Award
Paula Foster PhD, Director of the Collaborative Specialization in Molecular Imaging program and the Magnetic Particle Imaging Lab and Co-Director of the Translational Imaging Research Facility at Robarts Research Institute, has been awarded a Senior Fellowship from ISMRM in recognition of her achievements in cellular and molecular imaging. Paula has been closely involved in the activities of the ISMRM, teaching educational sessions and organizing workshops for both cancer imaging and molecular and cellular imaging. She also served as Chair of both the ISMRM Molecular and Cellular Imaging study group and the Cancer Imaging study group.
She is one of only 10 Canadians to ever receive this honour. Congratulations!
---
MRM Highlights Magazine
Udunna Anazodo is an Assistant Professor at Western University and an Imaging Scientist at the Lawson Health Research Institute and was featured as a rising MRI Canadian scientist.
Interview can be found HERE
---
NSERC Grant Success
NSERC Alliance Grant 
Dr. Frank Prato,

 

(Lawson Imaging, Medical Biophysics),
"Motion correction in hybrid PET/MRI cardiac imaging"
NSERC Discovery Grants Fall 2020 
Dr. Lisa Hoffman (Lawson Imaging, Medical Biophysics),
"
Muscle homeostasis: Role of the microvascular niche
"
Dr. Alexei Ouriadov (Physics and Astronomy), "Hyperpolarized 129Xe MRI: Development of hardware, software and its PET-based validation"
Dr. Andrea Soddu (Physics and Astronomy, Brain and Mind), "Role of brain dimensionality in altered states of consciousness" 
NSERC Research Tools and Instruments Fall 2020 
Drs. Emma Duerden, Soume Bhattacharya, Sandrine de Ribaupierre, Keith St Lawrence
"Functional near infrared spectroscopy (fNIRS) and the developing brain"
ImNO 2021 Awards
Congratulations to all the award winners at the 2021 ImNO virtual conference! The 19th annual Imaging Network Ontario symposium was held on March 23rd and 24th, 2021. 
---
Impact of COVID-19 on the brain
Dr. Robert Bartha, acting director of Strategy and Scientific Integration at the Robarts Research Institute, has received a grant from Western University's Research Catalyst Grant: Surviving Pandemics program. The team is hoping to recruit 60 patients who have experienced neurological symptoms from COVID-19.
---
INOVAIT Spring 2021 Funding Round
INOVAIT is pleased to announce its upcoming Canada-wide call for applications from industry and academic members for its first open round of pilot funding for collaborative research and development projects in the image-guided therapy (IGT) and artificial intelligence (AI) space. The application period opens on Monday, March 8.
INOVAIT is a new pan-Canadian network funded by the Government of Canada and hosted at the Sunnybrook Research Institute with the objective of strengthening Canada's leadership in the IGT sector by supporting and encouraging collaborative development and the integration of AI and data advances into medical technologies.
---
CIHR Success
Congratulation to BIRC Researchers on their successes in the Fall 2020 CIHR Project Grants competition!
Maria Drangova (Allan Skanes): "Contact force controller to eliminate the effects of motion during cardiac radiofrequency ablation" 
John Ronald (Greg Dekaban, Paula Foster, Timothy Scholl, Jonathan Thiessen, Justin Hicks, Mansour Haeryfar): "Development of molecular imaging tools to monitor the fate of an off-the-shelf chimeric antigen receptor natural killer (CAR-NK) cell immunotherapy for breast cancer". 
John Ronald (co-applicant with Michael Boffa (PI) and David Hess): "Development of a novel therapy to prevent breast cancer metastasis: modulation of TAF1, a master regulator of extracellular proteolysis".  
---
Congratulations
Congratulations to Qin (Daisy) Sun, PhD candidate, on receiving a third place award from the Molecular Imaging in Nanotechnology and Theranostics Interest Group (MINT IG) at the World Molecular Imaging Congress 2020 for her presentation titled "Developing magnetic resonance reporter gene imaging: trajectory analysis of co-expressed magnetosome genes mamI and mamL".
---
January 4, 2021
Welcome to Medical Imaging
Dr. Amir Awwad (Diagnostic Radiologist) – Dr. Awwad is a Cardiothoracic Radiologist who joins the Department of Medical Imaging as an Assistant Professor.
---
November 3, 2020
2020 Dean's Awards of Excellence – Faculty Research
Congratulations to Dr. Paula Foster, Robarts Imaging Scientist, for receiving the 2020 Dean's Award of Excellence: Faculty Research
Paula is the Leader of the Cellular and Molecular Imaging group at Robarts, and the Director of the Collaborative Graduate Program in Molecular Imaging. Her research focusses on cellular MRI for immune and cancer cell tracking, and more recently, she is the Canadian leader in the new technology of magnetic particle imaging. She is also an outstanding mentor for her students and is a champion of diversity and inclusion in imaging.
Follow Paula on Twitter @PJ_Foster, and her research group at @RobartsCMIGroup.
---
October 28, 2020
EU Joint Programme on Neurodegenerative Disease (JPND) Research in Partnership with CIHR
Congratulations to Dr. Udunna Anazodo (Canadian partner, site PI) and Dr. Justin Hicks (co-applicant) on their recent grant award. The project, titled DEBBIE, is to develop a non-invasive biomarker for early blood-brain barrier breakdown in Alzheimer's. The project was one of 12 that were recommended for funding by an independent, international Peer Review Panel based on scientific excellence with input from the JPND advisory board on patient and public involvement
---
Welcome to Medical Imaging
Dr. Jaron Chong (Diagnostic Radiologist) – July 17, 2020 - Dr. Chong is a Body Radiologist who joins the Department of Medical Imaging as an Assistant Professor.
Dr Leandro Cardarelli Leite (Interventional Radiologist) – August 21, 2020 - Dr. Leite is a Vascular Interventional Radiologist who joins the Department of Medical Imaging as an Assistant Professor.
Dr. Harry Marshall (Diagnostic Radiologist) – September 1, 2020 - Dr. Marshall is a Body Radiologist who joins the Department of Medical Imaging as an Assistant Professor.
Dr. Vishal Kalia (Diagnostic MSK Radiologist) – November 1, 2020 - Dr. Kalia is a Musculoskeletal Radiologist who joins the Department of Medical Imaging as an Assistant Professor
---
July 23, 2020
LRCP Chief Medical Physicist
Dr. Stewart Gaede, PhD. Associate Professor in the Departments of Oncology, and Medical Biophysics with the Schulich School of Medicine and Dentistry, Western University has been named Chief Medical Physicist at LRCP effective July 31st, 2020.
---
July 23, 2020
Robarts Research Acting Director
Robert Bartha, PhD, has been appointed as Acting Director, Strategy and Scientific Integration at Robarts Research Institute, Schulich School of Medicine & Dentistry effective July 27, 2020.
https://www.robarts.ca/announcement-acting-director
---
HSF Bridge Grants
Congratulations to co-principal investigators
Udunna Anazodo
(Lawson Health Research Institute) and
Stephanie Frisbee
(Department of Pathology & Laboratory Medicine, Western) on their Heart and Stroke Foundation Bridge Grant success titled "Exploring the inflammatory heart-brain connection: An In vivo imaging study of associations of myocardial inflammation to neuroinflammation and early cerebrovascular degeneration in patients with ischemic heart disease." Co-investigators: Frank Prato, J. Kevin Shoemaker, Krishna Singh, Jefferson Frisbee, Peter Prior, Neville Suskin
Congratulations to
Frank Prato
(Lawson Health Research Institute) on his Heart and Stroke Foundation Bridge grant titled "Improving Non-Invasive Imaging of Myocardial Ischemia and Inflammation". Co-investigators: Gerry Wisenberg, Rohan Dharmakumar
---
May 14, 2020
Western Research Catalyst Grant Success
Congratulations to Rob Bartha and David Holdsworth on their Western Research Catalyst Grant success!
PI: Robert Bartha (Robarts Research Institute) - "Long Term Neurologic Effects of Severe COVID-19 Illness"
Co-investigators: Ravi Menon, Corey Baron, Doug Fraser, Elizabeth Finger, Stephen Pasternak, Michael Silverman, Marko Mrkobrada, Michael Jurkiewicz, Erin Spicer, Don Welsh. Additional Investigators Contributing to project: Luciano Sposato, Anthony Tang, Megan Devlin
PI:  David Holdsworth (Robarts Research Institute, Depts. of Surgery and Medical Biophysics) - "Emergency ventilator system using additive manufacturing"
Co-investigators: Gord Campbell, Ana Luisa Trejos, Christopher DeGroot, James Lacefield, Christopher Harle, Marat Slessarev
---
April 27, 2020
Congratulations to BIRC researchers on their NSERC Discovery Grant Success!
Rob Bartha, Paula Foster, Stew Gaede, David Holdsworth, Sarah Mattonen, Terry Peters, Frank Prato
---
April 22, 2020
Joint study on PTSD treatment for first responders gets $1M in funding
A joint study between Western and McMaster universities is looking at a new approach to treating public safety personnel (PSP) such as nurses, doctors, and first responders suffering from post-traumatic stress disorder (PTSD)
https://london.ctvnews.ca/joint-study-on-ptsd-treatment-for-first-responders-gets-1m-in-funding-1.4905119
---
CanCOVID
CanCOVID is an expert network of Canadian COVID-19 researchers, clinical collaborators, and healthcare stakeholders from across the country. Canada's Chief Science Officer mandated the creation of CanCOVID to expedite communication and collaboration between the scientific, healthcare and policy communities during the COVID-19 crisis.
---
Western advanced manufacturing medical face shields for fight against COVID-19
Western University is supporting production of low-cost, substantively effective medical face shields that could be in hospitals for healthcare workers (HCW) within days if not hours.
---
First magnetic particle imaging paper in Canada published by Robarts Cellular and Molecular Imaging Group
In a first-in-Canada study led by Olivia Sehl and
Dr. Paula Foster
, magnetic particle imaging (MPI), together with iron-based magnetic resonance imaging (MRI) and fluorine-based MRI, was used to demonstrate quantitative monitoring of mesenchymal stem cell engraftment and the resulting inflammation over time. This is the first paper to combine these imaging technologies to study the fate of two different cell populations (MSCs and macrophages) simultaneously 
in vivo
. This is also the first publication to feature MPI data acquired at a Canadian institution, after the installation of an MPI system at the Robarts Research Institute in August of 2019.
https://www.ncbi.nlm.nih.gov/pmc/articles/PMC6935990/
---
CIHR Grant awards
Dr. Ting-Yim Lee - "Selective Brain Hypothermia via Intranasal Cooling to Limit Brain Injury Post Cardiac Arrest"
Dr. Aaron So - "Multi-centre diagnostic performance of dynamic CT perfusion for functional assessment of multi-vessel coronary artery disease with dense coronary calcification"
Dr. Rob Bartha (co-investigator, PI Dr. Neil Duggal) - "The Role of Neural Plasticity in Rehabilitation for Reversible Spinal Cord Compression in Elderly Patients"
---
Medical study aims to better detect breast cancer through 3D imaging
Dr. Anat Kornecki, Lawson scientist and radiologist at St. Joseph's, London, Ontario leads the medical study to better detect cancer through 3D imaging
---
Newsmakers 2019
Imaging scientist, Dr. Grace Parraga, is a Western University Newsmaker of the Year 2019
https://news.westernu.ca/2019/12/newsmakers-2019-grace-parraga/
---
Western University lung imaging studies challenge assumptions about asthma
Two studies led by Rachel Eddy and Dr. Grace Parraga show that hyperpolarized MRI reveals unique and permanent patterns in ventilation defects in lungs of people with asthma. 
---
Study looks at how to slow progression of dementia
Dr. Michael Borrie is leading a study using PET scans to slow the progression of dementia....
https://london.ctvnews.ca/study-looks-at-how-to-slow-progression-of-dementia 
Alavi-Mandell Award 2019
Tracy Ssali, PhD candidate (Medical Biophysics, supervisor Dr. Keith St. Lawrence) has received the Alavi–Mandell Award for her publication titled "A Non-invasive Method for Quantifying Cerebral Blood Flow by Hybrid PET/MR".
The award is given to individuals who were the first author of a paper published in the Journal of Nuclear Medicine, were trainees at the time the published work was carried out and made a major contribution to the completion of the work.
---
500 Women Scientists
BIRC is proud to support equity, diversity, and inclusion in science and excited to see the founding of a 500 Women Scientists pod in London, Ontario.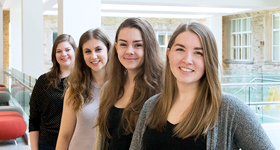 ---
BIRC members Jessica Rodgers and Dr. Aaron Fenster were recently featured in the news highlighting their work on a 3D ultrasound system for gynaecological cancer therapy. Read about it here: https://bit.ly/2ZhYYDd
---
Congratulations to all of the award winners at the 2019 ImNO Symposium!
Oral award winners: Katie Parkins (1st Place), Adam Paish (2nd Place), Ajay Rajaram (3rd Place), and Seva Ioussoufovitch, Erind Alushaj, Alexander Matheson, and Mark Asselin (Honourable Mentions).
Poster award winners: Mahsa Bataghva (1st Place), Amy Schranz (2nd Place), Stecia-Marie Fletcher (3rd Place), and Maryam Mozaffari, Riley Bloomfield, Jessica Rodgers, and Hui Wang (Honourable Mentions).