BIRC News
---
18th Imaging Network of Ontario
Thursday, March 26 & 27, 2020
Chestnut Residence & Conference Centre, Toronto
Deadline: Sunday, December 8th, 2019 (11:59pm)
---
Western University lung imaging studies challenge assumptions about asthma
Two studies led by Rachel Eddy and Dr. Grace Parraga show that hyperpolarized MRI reveals unique and permanent patterns in ventilation defects in lungs of people with asthma.
---
Meet our Featured Researcher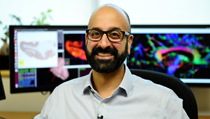 Dr. Khan is an Assistant Professor of Medical Biophysics at Western University, Scientist in the Imaging Research Laboratories and Centre for Functional & Metabolic Mapping (CFMM) at Robarts Research Institute, and Tier 2 Canada Research Chair in Computational Neuroimaging.  He completed his PhD at Simon Fraser University in 2011, and joined Robarts to continue working on advanced medical image analysis technologies for improving the diagnosis and treatment of neurological disorders.  His research in imaging for epilepsy has been funded by the Canadian Institutes for Health Research, and he is the Imaging for Surgery Theme Lead for The Epilepsy Research Program of the Ontario Brain Institute, EpLink.
He leads the Khan Computational Imaging Lab, focused on the development of novel image processing and analytics using quantitative magnetic resonance imaging (MRI).  His work in epilepsy is aimed at detecting unseen lesions in the brains of patients with epilepsy, using advances in ultra-high field imaging, diffusion MRI and computational modelling to map out the brain with unprecedented detail. These techniques could lead to more accurate and less invasive surgical therapies, predict what therapies will be most successful, and potentially make surgery a viable option for more patients.
BIRC Events 
---
December 10th at 11:30 am
You're invited to a partnership announcement
You're invited to a formal announcement of a new diagnostic imaging and therapeutics partnership between London Health Sciences Centre, St. Joseph's Health Care London, Western University's Schulich School of Medicine & Dentistry and Siemens Healthineers. 
Tuesday, December 10, 2019
11:30 a.m. - 12:00 p.m.
Auditorium A (Room B3-246)
University Hospital, London Health Sciences Centre
RSVP by Thursday, December 5 to comms@schulich.uwo.ca. A reception will follow the announcement in the space outside the auditorium.
---
PeMS PET/MR Seminar Series - January 8th at 4:00 pm
The January PeMS seminar will take place in Shuttleworth Auditorium, SJHC on Jan. 8th at 4:00 pm.
Stefan Poirier (Epilepsy imaging) and Praveen Dassanayake (Dementia imaging) will be presenting

---
Save the date - LIDD 2020
London Imaging Discovery Day
When: Thursday, June 18, 2020, Full Day
Where: Darryl J. King Student Life Centre, King's University College
---
Meet our Featured Trainees