---
BIRC NEWS
---
Dr. Paula Foster named WMIS Fellow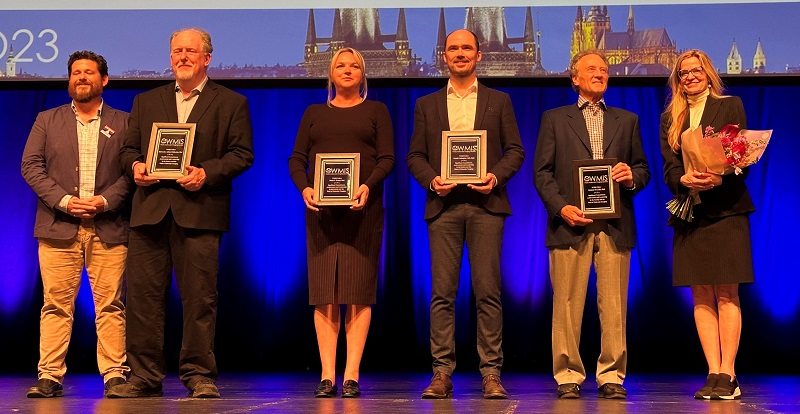 On September 8, 2023, at the World Molecular Imaging Congress (WMIC) in Prague, Dr. Paula Foster was named a Fellow of the Society. 
The WMIS Fellows are a group of distinguished scientists that have contributed significantly to both the molecular imaging field and to the World Molecular Imaging Society (WMIS). They are accomplished scientists that have been involved in molecular imaging since the very early days, have worked across the spectrum of molecular imaging, have made significant contributions including instrumentation and probe development and continue to contribute to the field with new technologies and insight into understanding the biology that drives the future of molecular imaging.

Dr. Foster is the first scientist at a Canadian university to be named a WMIS Fellow. 

Dr. Foster's students, Samantha Flood won a poster award at the WMIC and student Nitara Flood had the highest scoring abstract from Canada at WMIC in Prague and was appointed as a WMIS Ambassador for Canada
---
St. Joseph's in partnership with Lawson to become Canada's first centre of excellence in molecular imaging and theranostics
In a Canadian first, Lawson Health Research Institute (Lawson) and St. Joseph's Health Care London (St. Joseph's), in partnership with GE HealthCare, will become a centre of excellence in personalized treatment of cancer and other diseases by advancing the powerful blend of precision diagnostic imaging and targeted therapy.
---
---
Events
BIRC Newsletter 2023 - Issue 15
The BIRC Newsletter (2023 - Issue 15) is available
HERE
---
2024 Imaging Conferences
ImNO (Imaging Network of Ontario) 2024, 22nd Symposium will be on March 19 - 20, 2024 at the Hilton Meadowvale, Mississauga, Ontario. Program details will be announced soon!
Important Dates
•    Registration Opens: October 2nd, 2023
•    Call for Abstracts Submission Opens: October 2nd, 2023
•    Call for Abstracts Submission Deadline: December 1st, 2023
•    Early Bird Registration Deadline: February 15th, 2024
•    Hotel Discount Deadline: February 15th, 2024
ISMRM 2024, May 4-9, 2024, Singapore, Abstract Submission Deadline: 08 November 2023
SNMMI 2024, June 8-11, 2024, Toronto ON
BioEM 2024, June 16-21, 2024, , Chania, Crete, Greece.
WMIC 2024
---
London Imaging Discovery Day 2023
Award Winners
Lifetime Achievement Award 
Grace Parraga & David Holdsworth
Annual Award for Academic Excellence (AAAE)
Jonathan Thiessen (Research) & Amol Mujoomdar (Health Care Leadership)
Chairs Award for Inspiration
Susan Amaral
Tom Munro Award for Best Resident Research Presentation
Naman Siddique
Residents Choice Award for Best Oral Scientific Presentation
Henry Madubuobi
Magna Cum Laude
Salma Dammak, Natalie Li, Henry Madubuobi
Certificate of Merit
Jaryd Christie, David DeVries, Miriam Hewlett, Naman Siddique, Edward Wang, Sydney Wilson
Honourable Mention
Tricia Chinnery, Alicia Cronin, Lisa Garland, Ashley Miduca, Randa Mudathir, Lee Sikstrom