BIRC News
Biomarker could bring earlier detection of heart disease
July 10, 2019 - CTV News
At the Lawson Health Research Institute they're trying to save lives by detecting heart disease faster
---
BIRC members Jessica Rodgers and Dr. Aaron Fenster were recently featured in the news highlighting their work on a 3D ultrasound system for gynaecological cancer therapy. Read about it here: https://bit.ly/2ZhYYDd
---
Featured Researcher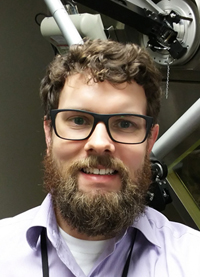 Dr. Justin Hicks
Dr. Justin Hicks is a radiochemist in the Lawson Cyclotron and Radiochemistry Facility. His research includes translating leading edge radiopharmaceuticals for clinical research studies and developing novel PET probes as well as better chemical methods to prepare them. This work supports clinicians and basic scientists utilizing PET to investigate cardiac and neurological functions in health and disease.
BIRC Events 
August 9, 2019 - PeMS PET/MR Seminar Series
The first monthly PeMS seminar will take place in Shuttleworth Auditorium, SJHC on August 28th at 4:00 pm.
Speakers for the August 28th seminar are: Joanne Tang (MSc candidate) - Inflammatory Heart-Brain Interaction Imaging, Nassir Al-Khishman (MSc candidate) - Neuroflammation Imaging, Rebecca Sullivan (PhD candidate) - Cardiac Ghrelin and Inflammation Imaging

The PET/MR Seminar Series (PeMS) is a monthly meeting focusing on new advances on PET/MR imaging, in a journal club format, in which every month we discuss a different recent paper and its research impact. Its aim is to bring together scientists, trainees, and clinicians from the imaging community interested in research and applications of PET/MR imaging. The seminar series balances the need for awareness of innovative research conducted outside Lawson Health Research Institute with the commitment to showcase the ground-breaking PET/MR research also happening at Lawson. By doing this, we will increase local, national and international collaborative efforts, in an interdisciplinary atmosphere. Its participants have different backgrounds and work in a variety of research projects, with topics on PET/MR imaging such as cardio- and neuroinflammation, brain perfusion and metabolism, epilepsy presurgical planning, and functional imaging, both in preclinical and clinical settings.
---
August 9, 2019 - World Molecular Imaging Congress
World Molecular Imaging Congress 2019

---
July 23, 2019 - BIRC Seminar Series
Dr. Ken Tichauer will present his talk titled "Quantitative Cancer Molecular Imaging using Paired Imaging Biodesign Innovation in Image Guided Therapy Devices: Concept to Clinical Adoption" at St. Joseph's Hospital, Shuttleworth Auditorium on September 26th at 12:30 pm 
---