BIRC NEWS
---
July 23, 2020
LRCP Chief Medical Physicist
Dr. Stewart Gaede, PhD. Associate Professor in the Departments of Oncology, and Medical Biophysics with the Schulich School of Medicine and Dentistry, Western University has been named Chief Medical Physicist at LRCP effective July 31st, 2020.
---
July 23, 2020
Robarts Research Acting Director
Robert Bartha, PhD, has been appointed as Acting Director, Strategy and Scientific Integration at Robarts Research Institute, Schulich School of Medicine & Dentistry effective July 27, 2020.
https://www.robarts.ca/announcement-acting-director
---
HSF Bridge Grants
Congratulations to co-principal investigators
Udunna Anazodo
(Lawson Health Research Institute) and
Stephanie Frisbee
(Department of Pathology & Laboratory Medicine, Western) on their Heart and Stroke Foundation Bridge Grant success titled "Exploring the inflammatory heart-brain connection: An In vivo imaging study of associations of myocardial inflammation to neuroinflammation and early cerebrovascular degeneration in patients with ischemic heart disease." Co-investigators: Frank Prato, J. Kevin Shoemaker, Krishna Singh, Jefferson Frisbee, Peter Prior, Neville Suskin
Congratulations to
Frank Prato
(Lawson Health Research Institute) on his Heart and Stroke Foundation Bridge grant titled "Improving Non-Invasive Imaging of Myocardial Ischemia and Inflammation". Co-investigators: Gerry Wisenberg, Rohan Dharmakumar
---
May 14, 2020
Western Research Catalyst Grant Success
Congratulations to Rob Bartha and David Holdsworth on their Western Research Catalyst Grant success!
PI: Robert Bartha (Robarts Research Institute) - "Long Term Neurologic Effects of Severe COVID-19 Illness"
Co-investigators: Ravi Menon, Corey Baron, Doug Fraser, Elizabeth Finger, Stephen Pasternak, Michael Silverman, Marko Mrkobrada, Michael Jurkiewicz, Erin Spicer, Don Welsh. Additional Investigators Contributing to project: Luciano Sposato, Anthony Tang, Megan Devlin
PI:  David Holdsworth (Robarts Research Institute, Depts. of Surgery and Medical Biophysics) - "Emergency ventilator system using additive manufacturing"
Co-investigators: Gord Campbell, Ana Luisa Trejos, Christopher DeGroot, James Lacefield, Christopher Harle, Marat Slessarev
---
---
Meet our Featured Researcher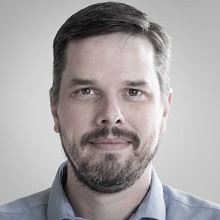 Dr. Jonathan Thiessen
Jonathan Thiessen, PhD, is Scientific Director of the PET/MRI Program at the Lawson Health Research Institute and Assistant Professor in the Departments of Medical Biophysics and Medical Imaging at Western University. He is also a member of the Collaborative Graduate Program in Molecular Imaging and The Brain and Mind Institute. His research focuses on hybrid imaging with simultaneous positron emission tomography and magnetic resonance imaging (PET/MRI). Technology development by his lab includes work on novel PET/MRI systems, acquisition methods and analysis techniques. His group is also actively involved in PET/MRI research investigating prostate cancer, epilepsy, post-stroke cognitive impairment, Alzheimer's disease, and cardiac disease. By helping to advance hybrid PET/MRI technologies, they hope to give new insight into the early biomarkers of disease and improve diagnosis and therapy in patients.
A Note of Appreciation from the BIRC Director
---
UPDATED COMMUNICATIONS - COVID-19
https://www.sjhc.london.on.ca/infectioncontrol/novel-coronavirus-update
https://www.lhsc.on.ca/coronavirus
---
EVENTS 
---
PeMS PET/MR Seminar Series - Cancelled until further notice
---
DEEP LEARNING CLUB - Cancelled until further notice
---
Postponed - LIDD 2020 - Given the uncertainty regarding the timelines and impact of the COVID-19 pandemic, we will postpone the Annual London Imaging Discovery Day Scientific Conference to later in the year.
---