BIRC NEWS
---
Study looks at how to slow progression of dementia
Dr. Michael Borrie is leading a study using PET scans to slow the progression of dementia....
https://london.ctvnews.ca/study-looks-at-how-to-slow-progression-of-dementia 
---
Medical study aims to better detect breast cancer through 3D imaging
Dr. Anat Kornecki, Lawson scientist and radiologist at St. Joseph's, London, Ontario leads the medical study to better detect cancer through 3D imaging
---
Newsmakers 2019
Imaging scientist, Dr. Grace Parraga, is a Western University Newsmaker of the Year 2019
https://news.westernu.ca/2019/12/newsmakers-2019-grace-parraga/
---
Western University lung imaging studies challenge assumptions about asthma
Two studies led by Rachel Eddy and Dr. Grace Parraga show that hyperpolarized MRI reveals unique and permanent patterns in ventilation defects in lungs of people with asthma.
---
Meet our Featured Researcher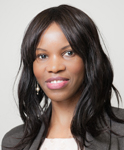 Dr. Udunna Anazodo
Dr Anazodo is a Neuroimaging Scientist at Lawson Health Research Institute and an Assistant Professor of Medical Biophysics at Western University. She leads the Multimodal Imaging in Neurodegenerative Disease (MiND) Lab at Lawson Health Research Institute. Her research combines quantitative positron emission tomography (PET) and magnetic resonance imaging (MRI) tools to find effective biomarkers that can be used in clinic for early diagnosis of neurodegenerative diseases. Her recent work uses PET/MRI to explore the role of inflammation in the development and progression of cognitive decline.     
EVENTS 
---
PeMS PET/MR Seminar Series - February 5th at 4:00 pm
The February PeMS seminar will take place in Shuttleworth Auditorium, SJHC on Feb. 5th at 4:00 pm.
Ben Wilk, PhD candidate, will be presenting his talk on cardiac imaging

---
IDSTEM 
Inspiring Diversity in STEM 2020 Conference
When: Saturday, March 21st to Sunday, March 22nd, 2020
Where: Health Science Building and FIMS and Nursing Building
Registration is available HERE
---
ImNO 2020
18th Annual Imaging Network Ontario (ImNO) Symposium
When: Thursday, March 26th - Friday, March 27th, 2020
Where: Chestnut Residence & Conference Centre, Toronto, Ontario
Registration is available HERE
---
Save the date - LIDD 2020
London Imaging Discovery Day
When: Thursday, June 18, 2020, Full Day
Where: Darryl J. King Student Life Centre, King's University College
---
Meet our Featured Trainees