BIRC News
Biomarker could bring earlier detection of heart disease
July 10, 2019 - CTV News
At the Lawson Health Research Institute they're trying to save lives by detecting heart disease faster
---
BIRC members Jessica Rodgers and Dr. Aaron Fenster were recently featured in the news highlighting their work on a 3D ultrasound system for gynaecological cancer therapy. Read about it here: https://bit.ly/2ZhYYDd
---
Featured Researcher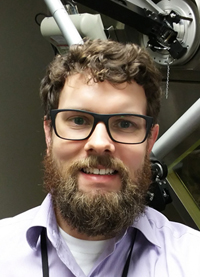 Dr. Justin Hicks
Dr. Justin Hicks is a radiochemist in the Lawson Cyclotron and Radiochemistry Facility. His research includes translating leading edge radiopharmaceuticals for clinical research studies and developing novel PET probes as well as better chemical methods to prepare them. This work supports clinicians and basic scientists utilizing PET to investigate cardiac and neurological functions in health and disease.
BIRC Events 
32nd NA-MIC Project Week
July 9, 2019 - Robarts Research Institute
The 32nd NA-MIC Project Week will be held during the week of July 15-19, 2019 at the Robarts Research Institute, Western University.   
July 9, 2019 - Biomedical Imaging Research Centre
Dr. Nobuhiko Hata will present his talk titled "Biodesign Innovation in Image Guided Therapy Devices: Concept to Clinical Adoption" at University Hospital, Auditorium B on July 18th, 2019 at 4:00 pm
---
More Information about the Great Lakes Advanced Molecular Imaging Course can be found here: https://iq.msu.edu/great-lakes-molecular-sciences/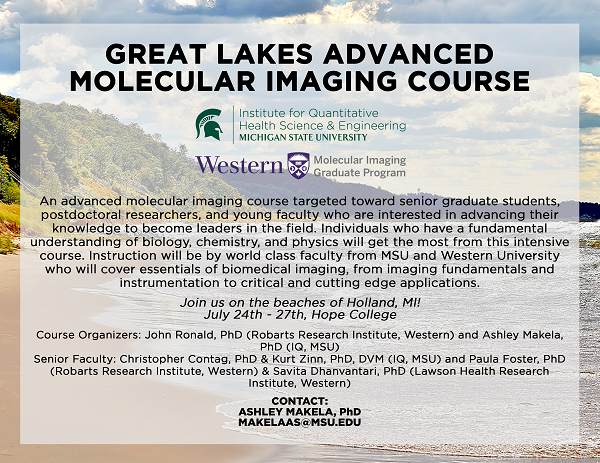 ---