Featured Trainees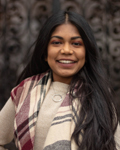 Tricia Chinnery
MSc Candidate

Biography: Tricia is a MSc candidate in Medical Biophysics supervised by Dr. Sarah Mattonen in the London Regional Cancer Program. Her work focuses on extracting quantitative imaging information from the CTs of oropharyngeal cancer patients treated with radiotherapy. Her goal is to better utilize quantitative imaging and machine learning to develop image analysis tools to predict patient outcomes and improve personalized medicine.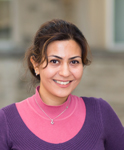 Maryam Mozaffari
CAMPEP PhD Candidate

Biography: Maryam is a CAMPEP PhD candidate in Medical Biophysics working with Dr. Robert Bartha at the Robarts Research Institute. Her current project is optimizing pH measurement and modulation at the cellular level using a novel MRI contrast mechanism, called chemical exchange saturation transfer (CEST). She employs a unique high field MRI (9.4 Tesla, available at the Robarts research institute) and in vivo pH mapping technique in an animal model of glioblastoma. She will investigate the the link between intracellular pH regulation and apoptosis which could have widespread implications in understanding human aging and disease.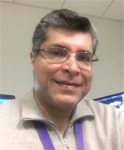 Alireza Khatami MD
PGY3 Nuclear Medicine Resident

Biography: Alireza is an international medical graduate with board certification in radiology from Iran and fellowship in pediatric radiology from Ottawa, Children's Hospital of Eastern Ontario CHEO. He has been an academic faculty and participated in more than 30 publications in radiology, pediatric radiology and pediatric neuroimaging before joining the program. Currently he is a PGY 3 resident in Division of Nuclear Medicine, Department of Medical Imaging at Western University to further improve and expand his knowledge about imaging diseases at molecular level and better understanding of their complexities. He believes that blooming in molecular imaging due to biomedical engineering breakthrough by making state-of-the art PET CT and PET MRI devices to pinpoint pathologic processes and producing new theranostics to target cancers cells together have opened new horizon in diagnostic imaging. He is interested in PET imaging and therapy and would like to participate in research. His current work as a collaborator with research team at LHSC, Victoria Hospital is on toxicity of 177 Lu- Dotatate therapy of Neuroendocrine Tumors. Better patient care is the goal of his career and he dedicates himself to achieve it in the department of nuclear medicine.